February / March
Gong Xi Fa Cai !  Xin Nian Kuai Le !
Chinese New Year is the longest and most important festivity in the Chinese Lunar calendar.  Cairns has a strong relationship with China, and this is reflected in our relationships with our Sister City, Zhanjiang, and our Friendship City, Zhongshan. 

The hugely popular festival showcases the city's rich Chinese heritage through music, dance and cultural performances, food, market stalls, and a parade featuring the traditional Chinese dragon, lions and the 12 zodiac animals.In addition to thousands of local attendees, the annual Chinese New Year Festival attracts around 10,000 Chinese nationals to the city each year. Many of these visitors travel on specially-chartered flights from China to celebrate their important cultural holiday in Cairns.

The Commonwealth Games Queens Baton RelayThe eyes of the Commonwealth will be on Cairns from March 15-17 next year, as the Queen's Baton journeys towards its final destination, the Gold Coast 2018 Commonwealth Games (GC2018) Opening Ceremony on 4 April 2018.Across Australia approximately 3,800 batonbearers are needed to share the dream of the ?friendly Games? as part of the QBR. Batonbearers for the Queen's Baton Relay will be announced in November 2017.
Cairns Events | June- August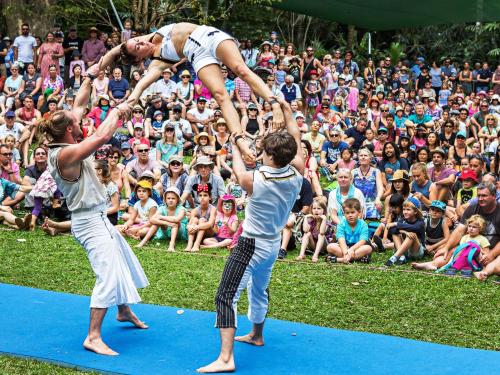 June
Ironman
Whether you're looking to compete or just want to cheer on the competitors, Cairns Airport Ironman Asia-Pacific Championship perfectly combines sportsmanship and paradise.
See more about Ironman here
July

Cairns Indigenous Arts Fair
This unique event celebrates Indigenous Australian and Torres Strait Island culture. Includes an art fair, art market and cultural performances. 13th-15th July.
See full itinerary here
Cairns Show
The biggest event on the Cairns calender. Enjoy entertainment, agricultural displays, fair ground rides and more! 18th-20th July
August
Cairns Tropical Writers Festival
Bringing together stories from Australian authors, the Cairns Tropical Writers Festival includes workshops and more! August 17th-19th
See full itinerary here.
Cairns Festival
This action-packed festival showcases everything we love about the region! Entertainment, arts, culture and more! August 24th- September 2nd.
See full itinerary here.
Photo: http://businesseventscairns.org.au
October / November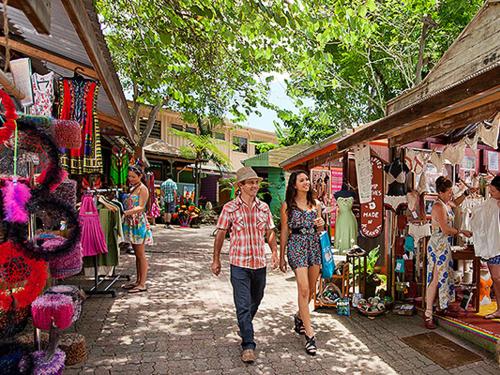 The Grass is Greener
Cairns' very own annual music festival sees thousands of people attend each event.  Featuring star studded line ups, and growing in popularity, the Grass is Greener Music Festival is a must do when in Cairns! 
The event is on 14th October 2017. Get your tickets at 
http://thegrassisgreener.com.au/
The Tropical Journeys Great Barrier Reef Marathon Festival
October also welcomes the Marathon Festival to Tropical North Queensland, which is rapidly becoming one of the 'must do' events on the Australian Running Calendar.
Hosted in the tropical oasis of Port Douglas on Sunday October 22nd, and offering a variety of race options, there is no reason not to get involved to Run for the Reef! 
Register at 
http://www.greatbarrierreefmarathon.com.au/
Rugby League World Cup
The Rugby League World Cup will also be visting Cairns in Late October, offering three fixtures at local sporting ground Barlow Park. 
Ireland Vs Italy - October 29th 2pm
Scotland Vs Tonga - October 29th 4.15pm
Samoa Vs Scotland - November 11th 5.00pm.
Get your tickets at 
http://www.rlwc2017.com/host-cities/cairns
December / January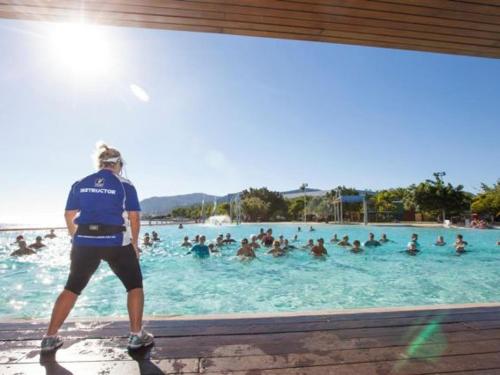 Spending the festive season in Paradise provides so many options to keep busy!

The Lighting of the Christmas Tree
Our super-tree stationed at Cairns Lagoon on the Esplanade is lit up  on December 1st.  This is the culmination of a local design contest.  Featuring magicians, stilt walkers, and a visit from Santa! 

Carols by Candlelight
Held at Fogarty Park on the Cairns Esplanade on December 10th.Bring your rug, chair and your best singing voice to one the biggest annual community events in Cairns. Attracting thousands of residents and visitors for a feast of Christmas cheer with carols performed by vocal groups, dance schools and soloists, culminating with a fireworks finale. The evening doubles as the major fundraiser for the Mayor's Christmas Cheer Appeal.

New Year's Eve
NYE at the Esplanade is a huge event that brings together locals and visitors alike to celebrate the end and beginning of another year in paradise. The event is alcohol free, with a focus on family-friendly festivities - everyone is welcome!Entertainment begins at 6pm with activities for the children, including free rides, arts and crafts, and various entertainers.  From 9pm the music kicks off for the adults. Fireworks at 9pm and 12 midnight will finish the year on a high note.